CHICKEN AIGUILLETTES
WITH BASIL, PINE NUTS
with basil, pine nuts, tomato sauce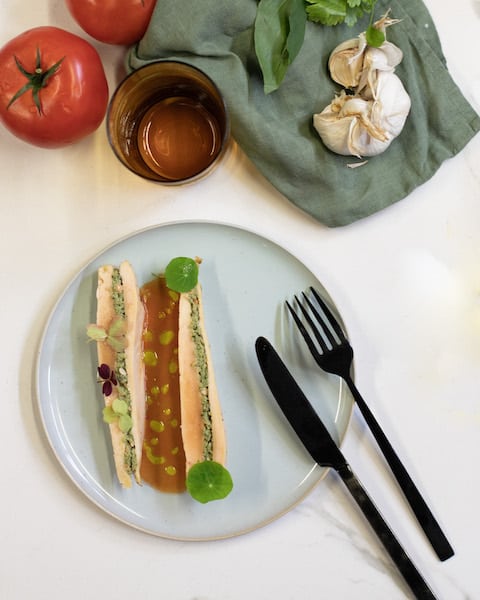 INGREDIENTS
4 free-range Red Label chicken breasts
4 Red Label free-range chicken aiguillettes
1 Red Label egg
20 g mascarpone
20 g of liquid cream
4 red tomatoes
1 tsp. tomato paste
10 g basil leaves
10 g of pine nuts
1 clove of garlic
30 g olive oil
10 g salt
smoked paprika, salt, pepper
Recipe
Separate the egg white from the yolk. Blend in a blender: the aiguillettes, basil, 10 g of olive oil, egg white, pine nuts, mascarpone and liquid cream, 5 g of salt.
Cut the 4 chicken breasts in half lengthwise without separating them, season with salt and pepper and stuff them with the mixture obtained.
Close and cook for 20 minutes in the oven at 140° with a dash of olive oil.
Mix 4 ripe red tomatoes with a clove of garlic, 20 g of olive oil, 5 g of fine salt, the tomato paste and 1 g of smoked paprika.
Strain and heat the sauce until it is silky smooth and slightly thick.
FOR THE PRESENTATION
Place the stuffed chicken breast in the centre of the plate and pour the tomato sauce over it.