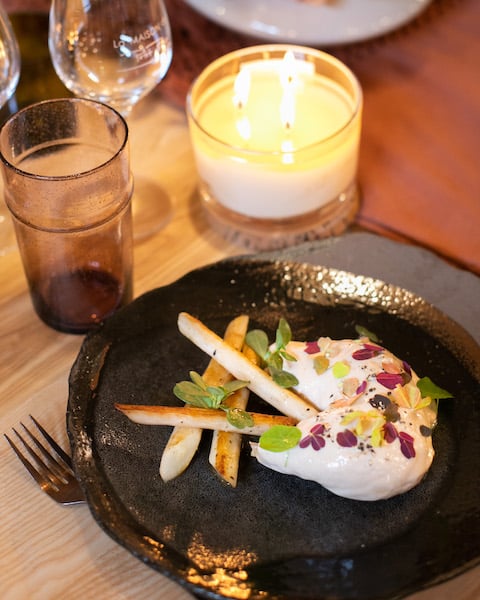 INGREDIENTS
1 farmhouse turkey Label
Red turkey
1 L of water
12 salsify plants
200 g chestnuts
200 g of liquid cream
10 bay leaves
10 g thyme
10 g butter
salt and pepper
Recipe
Cook the whole turkey in the oven, brushed with olive oil and butter, for 2 hours at 180°. Baste regularly. Reserve the cooking juices. Heat 1 L of water with the bay leaves, thyme and salt.
Lift the turkey breasts and finish cooking them in the stock off the heat. The bird is cooked when the stock is lukewarm.
Peel the salsify, cook in boiling salted water for 3 minutes, drain and fry in butter for 2 minutes. Mix the cooked chestnuts into a purée with the cream and a little of the bay leaf stock and heat gently.
FOR THE PRESENTATION
Cut the supremes into 3 portions and place them on a plate. Arrange the salsify on top of the bird, make a quenelle of chestnut purée and garnish with a little of the reduced cooking juices from the baked turkey.
CHEF'S TIP
As with the chicken, the leftover turkey can be used for a good stock!