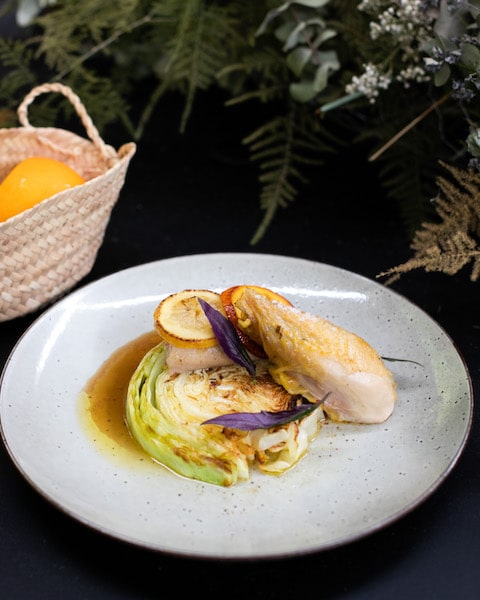 INGREDIENTS
4 Label Rouge free-range chicken thighs
1 small white cabbage
100 g olive oil
20 g orange juice
10 g lemon juice
5 g tandoori spices
1 g saffron pistil
salt, pepper
Recipe
Brush the 4 chicken legs with olive oil, a little salt and the tandoori spices.
Place in the oven for 30 minutes at 180°.
Cut the cabbage from top to bottom into 4 wedges.
Place them in an ovenproof casserole dish and brush each piece with a mixture of 100 g olive oil, saffron pistil, orange juice, lemon juice and a little salt.
Place the casserole in the oven, covered, for 25 minutes at 180°. The cabbage is cooked if it appears soft when you stick a knife in it.
FOR THE PRESENTATION
Separate the leg from the sleeve, put the white cabbage in the middle of the plate, sprinkle with the cooking juices from the 2 dishes (poultry and white cabbage).