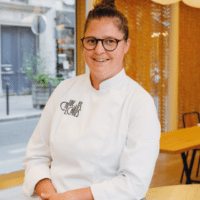 A recipe by
Chloé Charles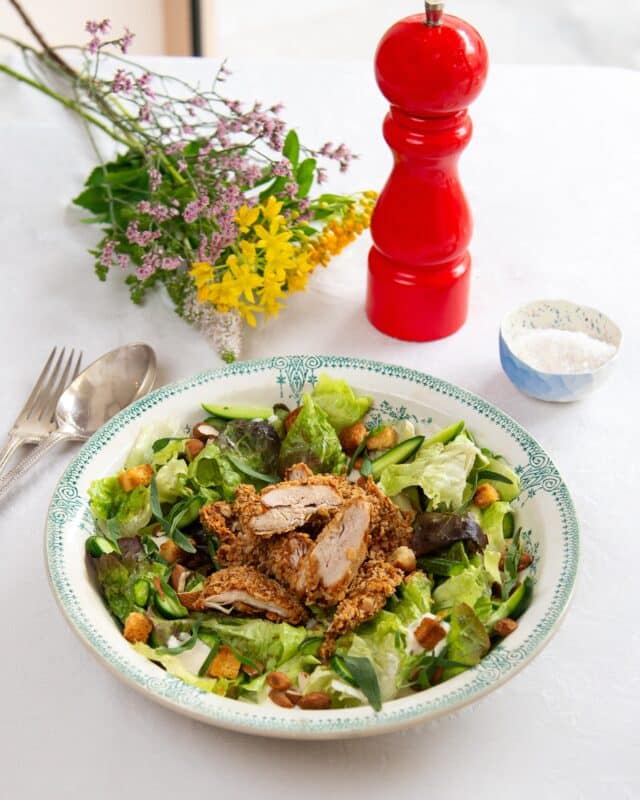 Ingredients
For the breaded farmhouse guinea fowl and salad :
300 g pieces (breast or supreme) of Label Rouge farmhouse guinea fowl
1 Label Rouge egg
1 sweetbread
1 cucumber
80 g rolled oats
50 g flour
salt and pepper
For the almond cream :
125 g smoked mozzarella
80 g almond purée
or tahini
2 sweet onions
1 tsp. cider vinegar
A little water
Salt and pepper
Recipe
For the almond cream :
Peel and chop the onion coarsely, then sauté in a saucepan with a little water and cover. Cook over a low heat until the onion has melted.
Place the cooked onion, almond purée and mozzarella in a blender and blend until smooth. If too dense, add a little water. If too liquid, add a little more almond purée. Season with salt and pepper and add 1 teaspoon of cider vinegar. Mix again. Pour the cream into a ramekin and set aside.
For the breaded farmhouse guinea fowl and salad:
Wash the sucrine and remove the leaves or chop as preferred. Dress with the classic vinaigrette.
Cut the Label Rouge farmhouse guinea fowl into nugget-sized pieces, season with salt and pepper, then toss in the flour, Label Rouge egg and rolled oats.
In a hot frying pan with a generous amount of oil, fry for 2 minutes on each side.
To serve, place the almond cream in a dish, followed by the sucrine and then the breaded guinea fowl pieces. Garnish with a few slices of cucumber.