Often imitated, never equalled. The Label Rouge is an official endorsement of the superior quality of the products. In short, in terms of taste and texture, Label Rouge farm-raised poultry and eggs are incomparable. How do our farmers achieve this level of quality? All of the production stages are covered by strict specifications that are particularly demanding in terms of animal welfare.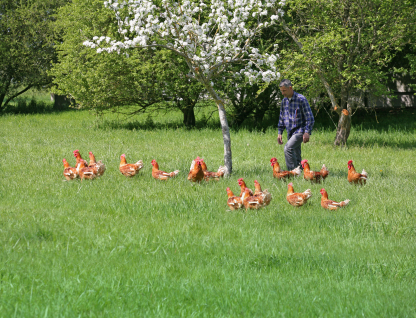 ANIMAL WELFARE
Label Rouge farm-raised poultry and laying hens can roam freely outdoors and have year-round access to large, shaded areas with trees. At night, the birds are housed in sheds equipped with doors called pop-holes, with a maximum number of birds per shed. Indoors, the floors are covered with litter and/or slatted flooring for ducks.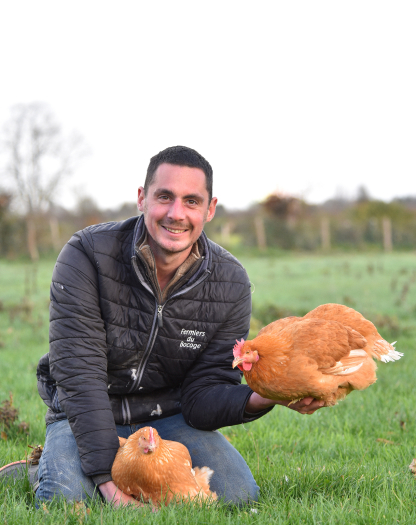 EXPERTISE AND COMMITMENT
Label Rouge poultry farmers spend their days caring for their animals and making sure they stay healthy. Their commitment is more than just a promise. They show their commitment by complying with production conditions stipulated in the specifications. Their compliance is verified during internal and external inspections (carried out by an independent certifying body approved by the French Government).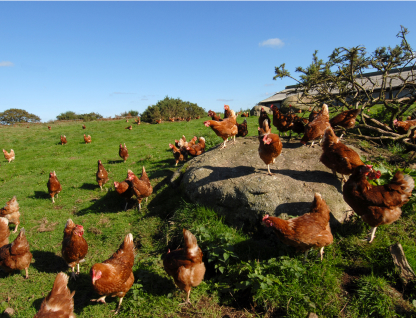 LABEL ROUGE, SUSTAINABLE FARMING
Label Rouge poultry farmers practice sustainable farming. They feed their animals a healthy and natural diet. Whenever possible, they use phytotherapy, essential oils, homeopathy or other alternative products to treat their birds.

THIS YEAR, LET'S TALK ABOUT ANIMAL WELFARE
This is one of the pillars of our farming methods. It requires stringent procedures and regularly inspected facilities. Let's talk about animal welfare when it comes to Label Rouge poultry.
Animal welfare at Label Rouge broiler and laying hen farms means providing sufficient space, indoors and outdoors. All the Label Rouge species, including guinea fowl, chickens, turkeys, ducks and quails, have access, all year round, to shaded outdoor runs with trees and shrubs. A minimum of 20 trees or shrubs must be present. Each animal has enough space to express their natural behaviours.
They spend the night in sheds no larger than 400 m2, on straw bedding and/or slatted floors. All the areas are set up in such a way to ensure that Label Rouge farm-raised poultry have the necessary space for their physiological needs. The sheds feature ventilation and natural lighting thanks to translucent openings.
Animal welfare for Label Rouge poultry also means taking the time, however long. The minimum growth period is defined by species. For example, 81 days for chickens and 94 days minimum for guinea hens. For this reason, we select hardy, slow-growing breeds. These breeds are particularly resistant to disease and therefore require little medication. In any case, our farmers use other forms of treatment such as phytotherapy, essential oils and homeopathy whenever possible.
Our farmers' procedures, systems and commitment have always been integral to our farming methods, and this is what guarantees the superior quality of our products.