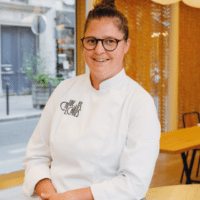 A recipe by
Chloé Charles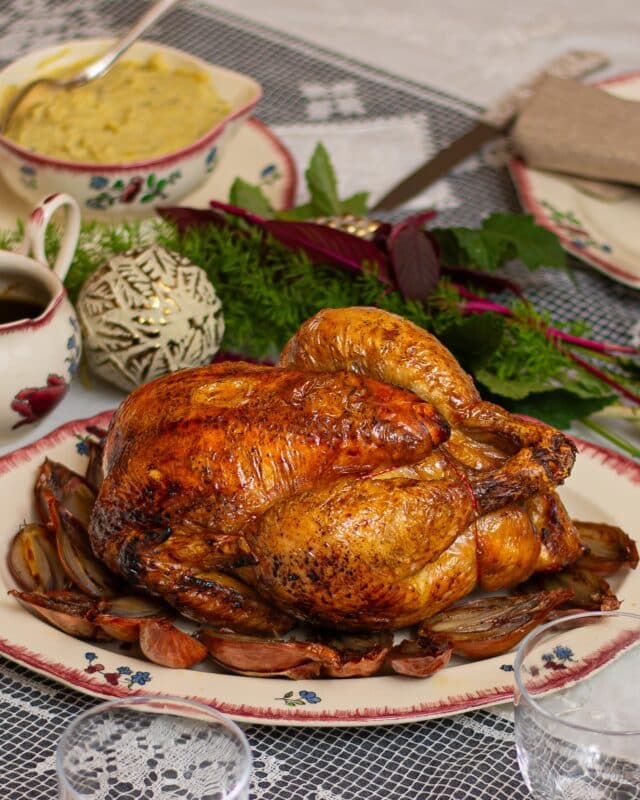 Ingredients
1 Label Rouge free-range chicken
4 heaped tablespoons
honey from your region
(preferably liquid)
750 ml lager
30 g salt
3 tbsp olive oil
1.2 kg potatoes
1 truffle, approx. 50 g
180 g butter
20 cl milk
Salt and pepper
Recipe
Prepare the day before: dissolve the honey and salt in the beer and immerse the whole chicken in it overnight.
The next day, drain the poularde and place in an ovenproof dish. Brush with olive oil and place in a hot oven at 150°C in fan-assisted mode for 45 minutes. Then switch the oven to grill mode at 200°C for a further 20 minutes. Throughout the cooking time, baste the Label Rouge farmhouse poulard with the cooking juices. Finally, leave to rest for at least 30 minutes in the oven, barely ajar.
For the truffle puree: brush the potatoes and place in a large pot. Cover with plenty of water and bring to the boil. Leave to cook for 20 to 30 minutes, until very tender (to check doneness, a fork should be able to poke through easily).
Brush the truffles under cold running water and pat dry. Put the truffle through a mandolin and slice finely to make a nice julienne (keep a little for decoration).
Drain the potatoes, peel them while still warm and mash them with a potato masher (or mash them with a fork). Place the mashed potatoes in a saucepan and heat over a medium heat, gradually stirring in the butter and milk.
Remove from the heat and add the chopped truffle. Serve, sprinkled with slices of truffle.
To serve: cut up the Label Rouge farmhouse poulard and place on top of the hot purée, sprinkling with a little of the truffle julienne reserved earlier.