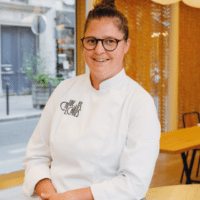 A recipe by
Chloé Charles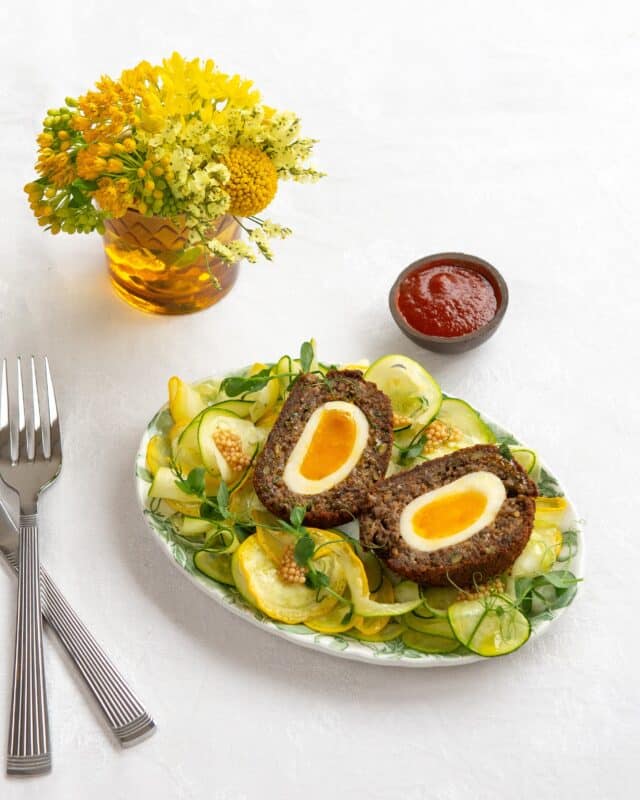 Ingredients
5 Label Rouge eggs
400 g button mushrooms
30 g raw lentils
100 g Comté cheese
160 g breadcrumbs, 60 g for the filling
and 100 g for the breadcrumbs
Parsley, spring onion
1 good pinch of nutmeg
1 teaspoon wholegrain mustard
50 g flour
Oil for frying
Salt and pepper
For the barbecue sauce :
100 g wine vinegar
100 g sugar
400 g peeled tomatoes
75 g garlic
1/2 tsp cumin
1/2 tsp fennel powder
1/2 tsp. smoked chilli pepper
Recipe
Cook 3 soft-boiled Label Rouge eggs in boiling water for 5 minutes. Prepare a bowl of cold water with ice cubes in parallel to stop the cooking. Remove from the heat and immediately soak the eggs in the cold water. Gently shell the cooled Label Rouge eggs and set aside.
Cook the lentils according to the cooking time indicated on the packet. Prepare the stuffing: blend the mushrooms, sauté in butter then, once cold, add the egg, Comté cheese, lentils, breadcrumbs, mustard and herbs, season and divide into 3 equal parts.
Roll the Label Rouge soft-boiled eggs in the flour, then coat with the filling.
Roll the stuffed Label Rouge eggs in the flour again, then dip them in a beaten egg and finally in the breadcrumbs.
Heat the oil to 170°C in a deep fryer or high pan.
Fry the Label Rouge eggs for 2 minutes, until golden brown. Remove with a skimmer and place on a sheet of kitchen paper to remove any excess oil.
For the barbecue sauce: make a dry caramel with the sugar; place the sugar in a saucepan over a low heat without stirring until it begins to smoke very slightly. Deglaze with the vinegar, very gently (to avoid splattering), add the tomatoes, garlic and spices.
Cook for 20 minutes over a low heat until slightly thicker, then blend.
Serve hot or cold with a fresh salad and the barbecue sauce on the side.