ROASTED GUINEA FOWL SUPREMES
FARMHOUSE RED LABEL
peas, bacon and lettuce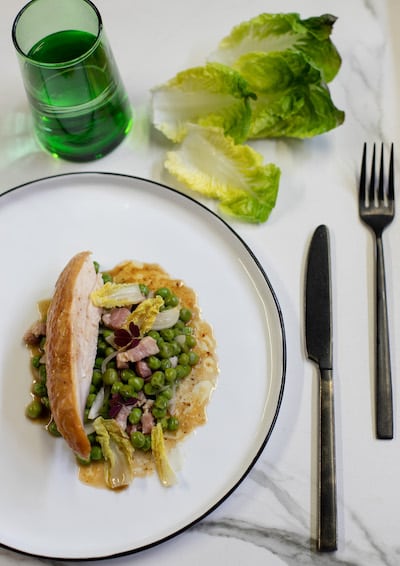 INGREDIENTS
4 supremes of Label Rouge farmhouse guinea fowl
10 g butter
10 g olive oil
1 sweet onion
50 g bacon
300 g raw peas
100 g water
60 g lettuce
salt and pepper
Recipe
Heat the butter and olive oil in a casserole dish. Fry the 4 guinea fowl supremes for 5 minutes skin side down over medium heat, then turn them over and cook for a further 20 minutes. Season with salt and pepper. Add the chopped sweet onion, bacon, raw peas and water. Cover the pan and cook for 5 minutes on a low heat, stirring occasionally.
Add the chopped lettuce and cook for another 3 minutes.
FOR THE PRESENTATION
Place the cooked lettuce on the bottom of a plate, then place the guinea fowl supreme on top, sprinkle the peas and bacon all around and drizzle with a little of the cooking juices.